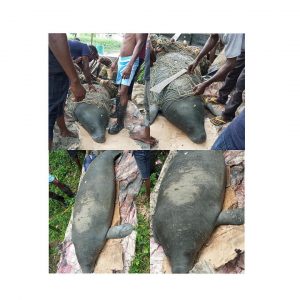 Lagos State government, yesterday, rescued a huge Manatee popularly known as Sea Cow, from a riverine Community in Agboyi Ketu Local Council Development Area of the state. .The Permanent Secretary, Ministry of Agriculture, Dr Olayiwole Onasanya said the aquatic herbivorous mammal was rescued after it was caught by the trap set by one Segun Ayenuro, a fisherman in the area. .
Onasanya explained that the mammal is an endangered species which breeds only a single calf once in two years and listed by World Conservation Union as a specie vulnerable to extinction because of its meat, bones, and skin which can bring great wealth to poachers. .
The fisherman said he had set his trap for tilapia fish on the Lagos Lagoon along the Oworonshoki axis on August 26, only to get there and discovered the bigger net used to shield the trap from predators had caught the Manatee.
Ayenuro said, while some advised that the fish be killed or sold, he decided to contact the state ministry of Agriculture to come and take custody of it because he learned it has been classified as endangered animal. The manatee has been kept safely in the custody of Origin zoo in Ikorodu.