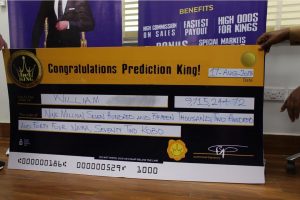 A middle-aged man, William, has emerged winner of a whooping sum of 9.7 Million Naira on Nigeria's fastest growing sports betting company, BetKing. .
William proved to be a true prediction King when he staked the sum of N10,000 on a ticket with 15 selections from several soccer leagues and nailed all 15 to win a complete sum of N9,715,244.72. .
He was invited to BetKing head office to claim his winnings and was paid instantly.
According to him, "BetKing has contributed to paying my children's school fees this session." .
He also plans to complete a couple of pending projects with the bulk of his winnings and he expressed gratitude to the brand for giving him the opportunity. .
To join the playground for kings, users can visit www.betking.com to register. .
You can also follow BetKing on Instagram, Twitter and Facebook with the handle @BetKingNG.