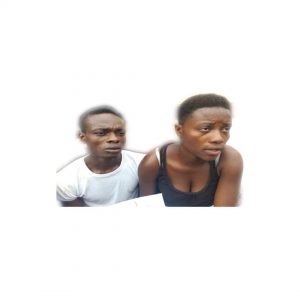 A couple have been arrested in Calabar, Cross River State, for allegedly trafficking their 2-year-old son to an agent in Port Harcourt in exchange for money. .
Vanguardngr reports that the boy was given out as collateral for N21,000 house rent, because the father, Daniel Bassey, could not afford it and he did so without his wife's consent. .The state Commissioner of Police, Hafiz Inuwa, said they were arrested on July 23, after a report by the child's mother, Magdalene Bassey. .
However, in an interview with vanguardngr, the suspect revealed that he gave out the child as collateral for N180, 000 to help him pay his house rent. .
According to him, "I did it based on the debt of N21,000 I collected from a friend to pay my house rent and I have no other valuable thing apart from him. So I used him as collateral to get the money to clear my debt. .
There is no work in this rainy season, so I am unemployed. A guy from my area informed me that he knows a woman who lends money to people. .
My friend told me that I can give out the child as collateral to get the money without necessarily selling him. The woman gave me N180,000 immediately after she received the child. .
After that, my mother-in-law came and asked me of the child and I lied to her that I took the baby to my brother for holiday." 📷: Vanguardngr