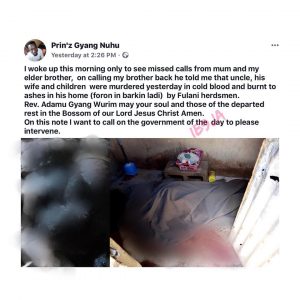 A resident Pastor of Church of Christ in Nation, COCIN, LCC Abonong, Foron District, Rev. Adamu Wurim, his wife and three children were among those killed, on Tuesday night, in fresh attacks on Barkin Ladi LGA of Plateau State .
The pastor and members of his family were said to have been burnt to death when the assailants razed properties, including the COCIN church and the pastor's residence. .Giving an account of the incident, a member representing Barkin Ladi in the state House of Assembly, Peter Gyendeng, said: "On Tuesday evening around 4p.m., we received information that some youths were attacked at a mining pond at Wereh, Barkin Ladi. .
One was shot dead, two others, who were also shot, survived and are receiving treatment in a hospital now. Apart from those three, we are still searching for the corpses of another set of two youths who were killed earlier. .
That same Tuesday, at about 8pm, we received information that villages in Foron were under attacks. In Abonong and Bek attacks, a reverend, his family and four other people were killed. .
On Wednesday, Fan was attacked and one person killed. As we speak, we are at a Police Station in Barkin Ladi to lay complaints because one woman was killed when she asked soldiers to leave youths alone for defending themselves and to go after the killer-herdsmen. .
She blocked the road, asking the soldiers to release the boys. But the soldiers shot and killed her. We are here in Barkin Ladi to report the issue. I will be heading to the affected areas to see things for myself and get the full details of what happened."