Meet With Ciaran Coakley From Griffith College, Ireland Here In Ikeja Lagos, Nigeria to discuss admission scholarships and post study visa opportunities.  Griffith College is Ireland's largest independent 3rd level institution with locations in Dublin, Cork and Limerick.
.
.
Why Study At Griffith College
* Established over 40 years ago, Griffith College enjoys national and a growing international reputation for student success. The College has gained an enviable, award winning reputation for providing students with first class lectures and excellent study material.
* We offer internationally recognised postgraduate and undergraduate degree programmes, complemented by a wide range of professional, short term and corporate training educational solutions.
* We are a designated educational institute of Quality & Qualifications Ireland (QQI).
* Many former students have gone on to enjoy distinguished careers in Ireland and internationally, in fields as diverse as accountancy, business, computing, design, law, media, music and drama.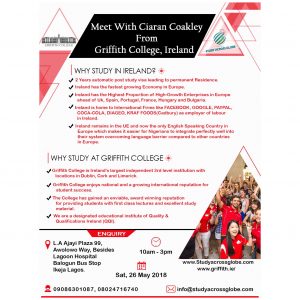 .
.
Why Study In Ireland
.
.
* 2 Years automatic post study visa leading to permanent Residence.
* Ireland has the fastest growing Economy in Europe.
* Ireland has the Highest Proportion of High-Growth Enterprises in Europe ahead of UK, Spain, Portugal, France, Hungary and Bulgaria.
* Ireland remains in the EU and now the only English Speaking Country in Europe which makes it easier for Nigerians to integrate perfectly well into their system overcoming language barrier compared to other countries in Europe.
* Ireland is home to International Firms like FACEBOOK, GOOGLE, PAYPAL, COCA-COLA, DIAGEO, KRAF FOODS (Cadbury), PWC, Citi and JP Morgan as employers of labour in Ireland.
.
.
Date: Saturday, 26th May, 2018
Time: 10am to 3pm
Venue: Study Across Globe L.A Ajayi Plaza, Balogun Bus-Stop, Besides Lagoon Hospitals, Ikeja, Lagos
.
.
For Enquiries : Info@Studyacrossglobe.com
Note: OUR SERVICES AT STUDYACROSSGLOBE ARE ABSOLUTELY FREE, WE DON'T CHARGE ANY FEE FOR PROCESSING OF ADMISSION AND VISA SUPPORT.
Facebook: Study Across Globe
Twitter:       @StudyGlobally
Instagram: @StudyAcrossGlobe